Blitz 3D Scene

Scene Introduction & Navigation Video
An 8min long video that explains how to navigate the scene, how the dust is setup using octane scatter, how materials use the texture masks and where to find the light.
Highres Renderoutput
16 Highres Passes rendered in 32bit Linear OpenEXR (if you would render the scene, it would output exactly these), a JPG showing the final image with postwork applied and a clayrendering.
3D Scene File + Textures
The 3D Scene, with all materials and Textures. The Scene doesn't take up too much resources, you can render it using a 980ti since it's doesn't take more than 6gb of Vram. It contains over 20 Individual Assets.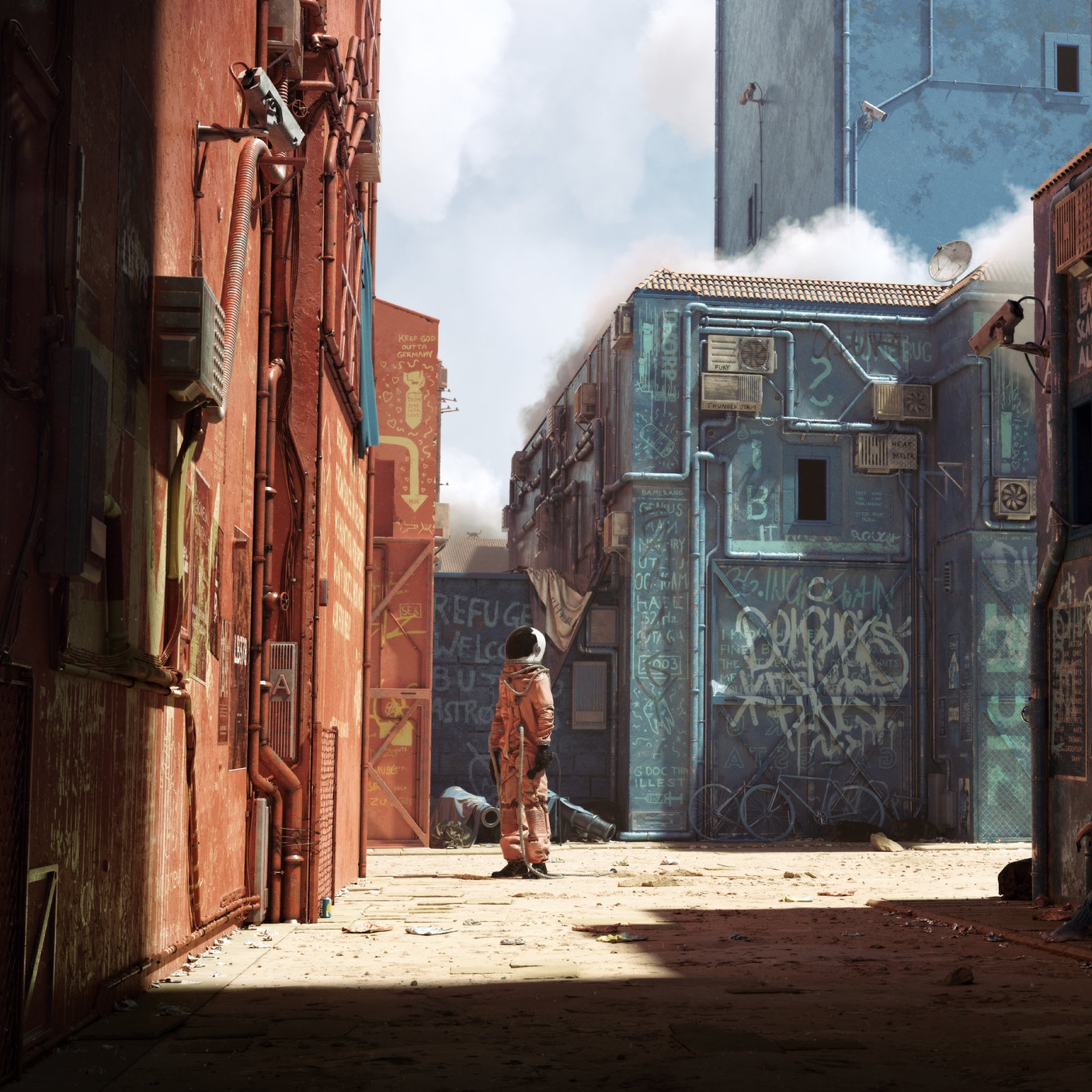 6088AD Tutorial

Artist Commentary
1:34 hours long, containing a timelapse with audio commentary by Cornelius Dammrich and music, summarizing the whole project and giving detailed background knowledge of the 2,5 months creation process of the 6088AD artwork.

Comprehensive Timelapse
9 videos, 8:49 hours long, containing a full timelapse of 6088AD creation process, from start to finish in 9 chapters.

Original Soundtrack
Containing all tracks that were specially composed for this project. 10 tracks in total composed by Lukas Guziel.

6088AD Scenefiles
One 3D File for C4D, containing all assets and materials and all textures used in the scene.
52hz astronaut & phonebooth
The archive includes all the assets and materials (astronaut + phonebooth) you find in the breakdown video of the awardwinning image "52Hz": https://vimeo.com/160907714

Scenefiles are for Cinema 4D + Octane for C4D

It's perfect if you want to take it apart, play around with it and combine it with your own non-commercial artwork.

This scene does NOT include the parkinglot and is NOT the complete 52Hz scene.
Fusion360 timelapse & scenefiles
A 45 minute timelapse of a 7 hour long Fusion360 session. The timelapse also includes shading, lighting and texturing of the scene in Cinema 4D R18 and Octane 3.0.

Models, materials and textures are included.
8K RAINDROP DISPLACEMENTMAP
Hwow! How big, how wet, how beautiful. A 8k Displacement map for rainy days. I wrote something about the making of this beauty and you can find it on my blog. By the way, it's completly tileable and comes in .exr with 32bit. I hope there will be tons of rainy windows in your portfolios from now on!
Shared under Creative Commons; Attribution, Share Alike.
8K TILEABLE GLOSSY MAPS
Not one, not ten – no! Four "spectacular" (pun intended), smudgy glossy maps in breathtaking 8192×8192 pixel resolution. You can use them for everything you want. They come in simple .jpg files and they are tileable, so you can map into infinity with my fingerprints.
Shared under Creative Commons; Attribution, Share Alike.
4K 32BIT TILEABLE DISPLACEMENT MAPS
One tileable mud map (I knew a pirate with that name) and one tileable rock map in 4096×4096 pixel resolution. Everything in 32bit Open EXR for the last bit of negative colorspace you need. Drink up me hearties yoho.
Shared under Creative Commons; Attribution, Share Alike.